LASTING IMPRESSIONS MINISTRY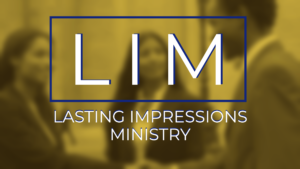 WHAT IS L.I. MINISTRY ?
L.I. ministry is the very essence of serving others. Our blueprint of servanthood is Jesus Christ
(Mark 10:45), and because He served , we shall serve unto the Glory of God.
THE MINISTRIES REPRESENTED UNDER LASTING IMPRESSIONS ARE :
Greeters
–
Those who greet people entering into church services or events hosted by Berea.
Ushers –
Those who greet and seat our guests, maintain order of the House, and maintain
cleanliness of
the sanctuary during services.
Parking Lot Attendants –
Those who direct vehicles in the parking lot (entering/existing), ensure driving
safety, maximizing space usage, and maintaining the cleanliness of the lot.
Security –
Those who provide and ensure safety of the church, the people, and the grounds.
Member Intake –
Those who welcome new members to Christ and the Berea Family, assist them in completing registration by collecting their information; provide information about our church, what we believe, our Pastor and First Family.
Culinary – Those who prepare and serve a fine dining experience for members inside and outside church
grounds.
Gatekeepers –
Those who maintain cleanliness of both the inside and outside church grounds.
Decorators –
Those who prepare special events through decorating and preparing the area for a fine
experience
Family Life Ministry –
Building family bonds with love, fun, and activities.
If you are interested in joining this ministry, please contact:
Missionary Kim Felix at kimfelix.bch@gmail.com