SUPERINTENDENT
JERMAINE L. JOHNSTON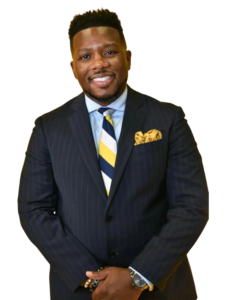 For those who knew Pastor Jermaine Johnston during his adolescent years, after his family relocated from Brooklyn, New York to Ypsilanti, MI, most would agree that there was something different and very special about him.
From as early as he can remember, Pastor J seemed to always hear such comments as "you're going to preach the gospel one day", "God's hand is on you boy" or some would call him "little preacher". As much as others could see his godly potential, Jermaine took the things of God very seriously and vowed not to "play with God", thus he ran from his calling for years in his attempt not to shame God!
Raised by his single mother, a fiery evangelist and prayer warrior, Jermaine and his 3 older brothers were brought up at St. James COGIC Ypsilanti, MI where many of his first memories of God's miraculous power began. He was known a "church boy" to those in his neighborhood which consequently became his saving grace from what could have been a life of drugs and crime as seen all around him. BUT GOD!
A church drummer for 20 plus years, Jermaine could be found in church EVERY Sunday but truly had no desire to preach the gospel, hence his later nick name, "the reluctant preacher".
In November 2005, Jermaine married his childhood friend Lena (Massey) Johnston and from this union was born 3 children rounding out the 6 children of their beautifully blended family.
A few short months after being married, Pastor J along with his wife attended a service at Burning Bush Int'l Ministries Ypsilanti, MI. This day would forever change the course of pastor's life as he made a decision to give his life to the Lord this day and hasn't looked back since!
Serving closely with now Bishop Don W. Shelby, Jr, Pastor J watched and took in all that was poured into him! He was licensed as a minister in 2008 and 2 years later, ordained as an elder by Bishop John H. Sheard. In 2015, Pastor was named an assistant Pastor where he continued to serve faithfully under his spiritual father, Don W. Shelby, Jr..
After hearing from God to "LAUNCH", Pastor J gave God his YES and through much pray and consecration, God revealed His purpose & the name of the ministry. Although he didn't care for this name (Berea), God confirmed the church name through his wife the next day and thus Berea City of Hope was birthed.
Since its conception, God has used Pastor Johnston greatly to snatch countless souls from the grips of hell, mend broken families and set free the bound! As a leading pastor in the city of Ypsilanti, MI, Pastor Johnston continues to run with all diligence to fulfill his call and the God-given purpose on his life!