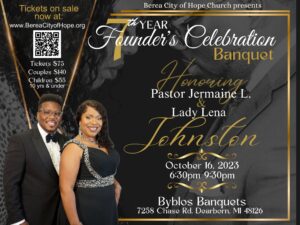 It is with the utmost excitement that we invite you to Berea City of Hope's 7th year Founder's Banquet and Celebration on Monday, October 16, 2023.
Pastor Jermaine & Lady Lena Johnston have served faithfully and with humility both the people of God as well as the Ypsilanti community. It's through their service that individuals, families and marriages have been saved, healed & delivered, hundreds of coats donated, countless families fed and local youth have received school supplies annually…all free of charge!
It is because of this type of selfless leadership & service that we honor them and ask that you consider sponsorship for this year's Founder's Banquet and Celebration. Sponsorship for this grand event is simply your way of saying you agree with the work God has done and encouragement as they begin the next phase of global ministry. Sponsorships start at just $250 and will include your ticket to this grand celebration of two of God's choice servants. Won't you help us honor them?
Please see the attached sponsorship form for details & options to assist you in helping congratulate and support Pastor and Lady Johnston on 7 successful years of ministry & beyond!
Additionally we have the opportunity to support by placing an advertisement in our souvenir booklet or you can purchase a ticket by clicking the link below.
For any inquiries, please email BCHcommittee@gmail.com



September 22nd 7pm
Drive-in Movie
@ Berea City of Hope